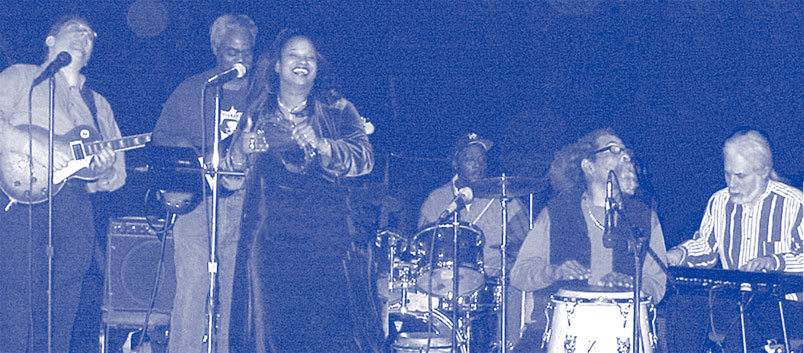 From left: Andy Bassford, Leroy Guy, Kim Miller, Ronnie Murphy, Larry McDonald, Mitch Margold
In addition to my performances with other artists and bands, I have my own group, The Blue People. Perhaps best described as "my record collection in a blender," The Blue People performs my own music as well as the songs of others that we feel are worth presenting. Like me, everyone in the band freelances, and we are all extremely busy in and around NYC. So we don't play out together as much as we'd like. You can book us by clicking here. If you want to learn more about the band, keep reading.
Look for our gigs on my Live page.
Meet The People
Here are The Blue People, in alphabetical order:
Andy Bassford (guitar and vocals)
Well, there's plenty about me on the site already. I play guitar, sing,  lead the band, and write much of the music.
Leroy Guy (bass)
Leroy is not as well known as some of the other Blue People, but among his peers he is considered one of the best reggae bass players in the city. Originally a singer, Leroy switched to bass after hearing Family Man Barrett's original band, the Hippy Boys, rehearsing on his way home from school. Leroy was a founding member of NYC reggae legends Monyaka and has been the first call bassist for the Meditations for many years. Originally from the hills of St. Mary, Leroy avoids the spotlight, preferring to hover in the background and hold things together. This makes him perfect for The Blue People; it's what we need a bass player to do. In addition to his wonderful bass playing, Leroy is also a talented visual artist.
Mitch Margold (keyboards)
Mitch is a marvelous musician who has played with Evelyn King, Gordon Edwards, Cornell Dupree, Toots and the Maytals, and just about every blues musician who's come to New York without a keyboard player. He and Kim are the most musically literate members of the band, and Mitch can play just about any kind of music you want to hear. In addition to playing with a variety of people around town, Mitch teaches, has his own studio, and plays Sunday services in a Baptist church in Harlem.
Larry McDonald (percussion and vocals)
Few people merit the term "living legend" more than Larry McDonald. Percussionist extraordinaire, a suave and sophisticated vocalist, the ladies' pet, and one of the most articulate men alive as well as the world's oldest teenager, Larry McDonald's career would require a whole website to summarize. Larry was there before the beginning: he was playing music for a living in Jamaica before there was dance hall, reggae, rock steady, or ska. After recording many classic tracks for the Studio One label, Larry came to the States in 1973 to put together a band for Taj Mahal. He has since played with Randy Weston, Monyaka, Toots and the Maytals, the Skatalites, and just about anyone else who needs his special touch. As if that wasn't enough, Larry spent over twenty years in the legendary Gil Scott-Heron's band, sometimes as the only member! Larry's reggaefied vocal treatments of jazz standards are particular audience favorites. Currently he plays with Dub Is A Weapon, the Rock Steady Seven, and Meta and the Cornerstones. Larry is also a trained accountant and speaks Latin, believe it or not.
Kim Miller (vocals and percussion)
The Queen of The Blue People and our lead vocalist, Kim has sung with a staggering variety of artists, live and in the studio. Kim's been featured in a Shaggy video, she's been a Marvelette, she's been carried onstage in a limo in Atlantic City with Musique, and she's traveled the globe with Israel Vibration, Judy Mowatt, Marcia Griffiths, J. C. Lodge, and lots of other folks. Kim also has a degree in Musical Theater from Hartt and is one of the best tambourine players ever.
Ronnie Murphy (drums)
A native Kingstonian, Ronnie toured and recorded with Jimmy Cliff for many years and played on the classic "Give Thanx" album. After moving to the US, Ronnie played with both Shinehead and the Wackies All-Stars, touring Japan repeatedly, and was the house drummer at Funky Slice Studios in Brooklyn, NY during the eighties and nineties. A truly original drummer, Ronnie is also a world-class cook, a skilled driver of every kind of vehicle imaginable, and has an incredibly diverse collection of music.
Music Samples
Here are samples of our music. "Do You Ever" and "I Want You With Me" feature our first drummer, the amazing Aubrey Dayle, who returned to his native Canada a few years ago after leaving us to join God Street Wine. "Surfing" features Ronnie Murphy and was recorded live. Written by the great Ernest Ranglin, it's our traditional set opener.
Blue People Live Video
Here's live video footage, shot by our dear friend and fan Richard Cuccaro. Richard is a true music lover whose website Acoustic Live is well worth a look. He does wonderful feature articles each month as well as helpful gig listings.
Shows and Tours
I toured anywhere from three to six months a year for decades. I've done less of it in the past few years for a variety of reasons. But I'm always up for it if the music, the people, and the business are right.
I also play locally (in NYC and tri-state area) all the time. I love to play live! So if you like what you hear on the site and think I might fit your situation, contact me.
Recently I've been putting bands together for various functions. This is a new aspect of my business and I'm starting to enjoy it. It's fun putting great players together that will fit what the gig requires. So…talk to me!
Recording Sessions
I'd love to play on your recording, as I have for a number of other people. Contact me for rates and details. I will happily travel to wherever you are, if it's feasible. I am now also able to record guitar tracks for your project at home if that's more convenient for you.