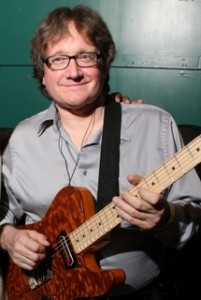 Welcome! If you're interested in my music, my writing, or my adventures, you're in the right place. I stay pretty busy, so I'm constantly adding and updating things.
You can see where I'm playing live. If you want the next best thing, there are links to live performance videos on Youtube. I've stocked my Video Jukebox with some of my favorite studio recordings. You can read my blog posts on various topics. (For example, here's the Ten Commandments series of tips for young musicians.) Hear some fresh sounds, see photos, or contact me, either about work or something you see on the site. Thanks for your interest!
Bulletins From A Working Musician
5/14/13
5/11/13
A real reggae lover and genuine nice guy named Ingmar from the Netherlands has a great blog dedicated to Joe Gibbs productions called Pressure Beat. He did an interview with me about Cornell Campbell's big hit "Boxing" for the label, which was one of my earliest recordings. Of course, you can listen to the song on my Video Jukebox page. It's in the lower right hand corner.
Check out the rest of Ingmar's blog too. Fans of my old group Cool Runnings will enjoy his post on lead singer Patrick Burke's former group ElPedio and the Sonics,
5/7/13
With Monty Alexander's Harlem/Kingston Express at Birdland all this week!
4/30/13
Not many gigs this week, but I'm appearing with Monty Alexander and the Harlem-Kingston Express all next week at Birdland in Manhattan. Go here for tickets.
4/22/13
Lots of gigs this week!
The Laura Haykel and Hopeton Hibbert projects are done, for now. (Hopeton's album is supposed to drop in May.) More practice time! Or there would be if there weren't so many gigs.
A nice review of the Mike Lefton CD here. Mike has already had to restock his CD five times on the CDBaby site. He's playing out regularly too in support of the project.
More airplay on Sirius XM the Joint and Vassar College Radio for Island Head.
4/10/13
Tax time has slowed my updating considerably, but the end is in sight. I'll be back here more regularly.
Doing yet another track for bassist/vocalist Hopeton Hibbert (son of Toots) for his debut album and finishing up a track for Laura Haykel at home.
After a period of quiet, I have three recording sessions this week! Are the Eighties back?
My band, the Blue People, will be performing a fundraising event for the YAI Network at Scallywag's in Manhattan on April 25.
I'm doing a very rare gig as a leader the next night at Park 143 Bistro in Bronxville, featuring some of the other Blue People.
The Island Head CD keeps going and growing as more and more jamband radio programs are adding it to their playlists. We are planning live shows for the summer and a festival appearance in Jamaica in August.
3/27/13
More work on Hopeton Hibbert and Laura Haykel projects at home. I need to come up with a catchy name for my studio.
The Island Head CD is at #6 on CMJ's World Music Chart!
Almost finished with the second Monty Alexander Harlem-Kingston Express CD. We will be appearing at Birdland in NYC in May and then it looks like we will be doing a show in Jamaica!
Gigs! With The Engagements, Derrick Barnett, and a special guest shot on Sunday night with songbird Simone G at the Shrine in Harlem.
Thinking about a redesign for the website to make it more compatible with mobile devices, among other things.
3/18/13
My custom designed guitar picks from D'Addario showed up. They really do a great job. I'm not a D'Addario endorser (GHS for me!) so I am not being compensated for this endorsement. I'll put a scan up if I think of it, so you can see what they look like.
Things have been quieter than they've been for a long time. I did do some recording with Eddie Parkins (of Alton and Eddie fame, for you Jamaican music history geeks.
Hopeton Hibbert loved the tracks I did for him at home! He sent me another one to work on; his album is supposed to drop in May. Hopeton and I go way back so I'm happy I'll be on the record.
Producing a track for Laura Haykel of iFlourish Consulting. Laura has a wonderful voice and a distinct point of view. I am excited to hear what people think of it.
3/2/13
Bill Messinetti and I visited Cable Man Dan's show on Tuesday to talk about the Island Head CD and lots of other fun things.
Dan likes to play a different version of "Rivers of Babylon" on every one of his shows, so he asked us to do one live. We did, but when he said he wanted to use it as a drop I told him I wanted to do it over. I'm sending this to Bill to put percussion on, but you can hear the solo version here. It's in the Sounds section.
More studio work on both the new Monty Alexander Harlem-Kingston Express CD and the debut CD for jazz singer Caterina Zapponi (a.k.a. Mrs. Monty Alexander). Not sure of projected release dates for either.
The Mike Lefton EP I produced, "What Are We Waiting For," is getting terrific response. And people are buying it! You can do so here.
2/21/13
Here's a brief article I wrote about getting started in the music business. Not just for musicians.
Working on guitar tracks at home in my studio for Hopeton Hibbert (a great bass player and singer) and DB & Statement Band keyboardist Raymond Stewart.
I just ordered custom designed guitar picks from D'Addario. Curious to see how they come out.
2/19/13
The wonderful people at Akismet have repaired my sp*m problem. Comment away!
It looks as though Island Head will be appearing live in Jamaica on August 10. Details to follow. The CD is still in rotation on Sirius XM and is gaining ground on jamband programs too.
2/12/13
People have nice things to say about Clark Gayton's new CD, Clark & the Superslicks, which I played on. Clark is the first call tubaist and trombonist to the stars (he's currently touring with Bruce Springsteen, a genius musician, and an all around great guy. Buy the CD here!
I did a radio interview with the Night Nurse, Amy Wachtel, at Radio Lily. You can listen to the show here if you missed it live.
2/5/13
I just found out that a gig I did with Toots and the Maytals at the New Orleans Jazz Festival in 1991 has been reissued by Island as "Toots Live." This means I had to update my discography.
If any of you have commented on any of my posts and not seen your comments, please accept my apologies. The sp*m problem is quite serious here behind the scenes and I am trying to clean things up.
My favorite young reggae band, New Kingston, releases their new album, Kingston University, today! (Yes, I played on it.)
The Island Head and Roots Nation CDs are getting airplay all over the world, and tour dates are being discussed. Many thanks to all the DJs, most notably Pat McKay and Dermot Hussey of Sirius XM The Joint, for all their support!
In bad news, the Monty Alexander concert in Jamaica, scheduled for March 10, has been cancelled.
2/4/13
I played a session on Friday for Monty Alexander. We're finishing up the followup to the Grammy-nominated Monty Alexander's Harlem-Kingston Express Live! Gary Bartz played alto sax on a version of the Marvin Gaye classic "What's Going On" that I'm really happy with. Not sure of release date yet.
The Cannabis Cup Bob Marley Birthday shows at B.B. King's were very successful. CCB will be playing the Rocks Off 420 Cruise on, naturally, 4/20.
I played on a track for a great young artist, Gabi Wilson. Hope it makes the record! Gabi is amazing. She sings, plays guitar, piano, and bass, and babysits her little sister, all with great skill and aplomb. They watched the session (at Oz Studios) via Skype, a first for me.
More work with Karl Wright on the Nova CD.
The Mike Lefton EP I produced, "What Are We Waiting For," is at the manufacturing plant and should be available this month.
Giles Guitars rock! I visited their shop last month and liked three of the prototypes very much. They are still tweaking; more on this as it develops.
1/14/13
A lovely review of the Mister Fred CD that I produced, Golden Age, here.
I recorded bass and acoustic guitar tracks for an exciting new artist, Nova. Karl Wright produced, brilliantly. I'm not sure how far along the project is, but the five or six songs I've played on so far for her really smoke. If you like Etana, you will really like Nova. Still no electric guitar played in the studio yet this year.
Over New Year's weekend I also recorded guitar tracks in my home studio for Fred Locks (produced by Duplex Music) and New Kingston, my favorite young reggae band. (I'm also on their new album, Kingston University, which drops 2/5/13.) New Kingston totally rocks live and they are on tour now. Check them out!
Yet another addition to the discography.
If you want me to record tracks at home for your project, email me through my contact page for details and rates.
Finishing up the Mike Lefton EP I'm producing. Final mixes this week, mastering on Monday, pressed and ready by February 1. I've played it for some people I respect a lot and the reaction so far is everything we could hope for.
Playing in New Hampshire on Wednesday with NY Ska-Jazz Ensemble.
1/4/13
My New Year's Eve gig was a total disaster. I'm still waiting to get paid.
I recorded two acoustic tunes with Ras Karbi last night, they sound a little like a reggae Blonde On Blonde. The studio was great, The Kennel in Brooklyn. Wharton Tiers produced.
Inspired by the events of NYE, I created a new post. You can read it here.
More mixing for the Mike Lefton EP with Jeff Ganz. We missed the Xmas shopping season, thanks to Hurricane Sandy, but we're near the finish line.
I'll be meeting with the people at Giles Guitars later this month to consult with them about their new line of instruments.
12/28/12
12/26/12
Nice reviews of the Island Head and Roots Nation albums by Tom Orr here. They're down in the middle of the page, but they are there. Thanks, Tom!
Jamaican broadcasting legend Dermot Hussey will be featuring a number of tracks from the Island Head album on his Internet radio show this Friday at 8:00 p.m. US time.  (7:00 p.m. JA time.) You can click here to listen.
My favorite guitar-related publication will be interviewing me soon! I can't say more until I'm sure the article is in the production process, but stay tuned.
Gigs with Derrick Barnett and Statement Band at the Shrine in Harlem this Sunday and with DB & SB backing Singing Melody and Gramps Morgan on New Year's Eve at Amazura in Queens. We will be opening for the legendary Sanchez.
The Felix da Housecat CD I worked on is in the mixing stages. Hope my tracks make the final cut! You never know until you hear it.
12/10/2012
12/03/2012